I had been busy outdoors since my last post enjoying the wonderful spring weather, planting tomatoes, pruning hedges and bushes, preparing to repaint the trim around the windows on the the south side of the house where the paint is cracked, peeling and in desperate need of new paint... Well actually new windows,
but since that's not in the budget it will have to be just new paint for now...
I scraped and sanded till I thought my arms would fall off,
when mother nature decided to bring back some cold raining
winter like weather and brought everything to screeching halt.
My hands were actually ready for a break anyway, cuz they are
cracked and peeling now like the paint!!
Too bad I can't just repaint them too and have them good as new again!
Instead I've been keeping them moisturized and protected till they are feeling better.

While they are healing and I'm waiting for nice weather to return I thought I'd share this tablescape that was inspired by a few new T/S treasures I found.
I found this white cow pitcher at my favorite out of town T/S "Deseret", and you know there's NO way I can pass up an adorable pitcher, lol!
Plus I knew it would make a great addition to the white stoneware I've been collecting.
I added the little copper cow bell myself cuz, well I had one...
and a cow's gotta have a cow bell, right?!
Some of you may remember this oval rattan tray
I bought a while back at the local Goodwill, well can you believe I went back to the same G/W months later and found these matching chargers?!!
Happy dance!!
These white stoneware dishes I also found at G/W.
I love the mixed patterns.
These green and white striped napkins are actually dishcloths from the dollar store!
They were just what I was looking for!
They even came in a pack of two, so I got all four
of them for 2 bucks... happy dance again!
My lil fitz and floyd piggies wanted to join the fun!
They brought some radishes,
and I brought some garlic chives from my garden...
Crackled glass stemware for a bit of glitz, just in case your in the moooo'd to celebrate with a bit of champagne with your brunch.
Cabbage candle holders to add to the theme.
Thats it folks, and guess what? The sun is coming out as I type
yay!
The rest of the week is supposed to be nice weather so hopefully
I'll be painting by tomorrow after things have a chance to dry out today.
Thanks as always for stopping by to visit and
I hope your week is going well!
I'll be linking up with the following blog parties.
Be sure to stop by and visit with our charming hostesses,
and for lots of inspiration!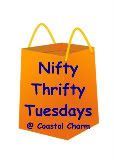 ...and